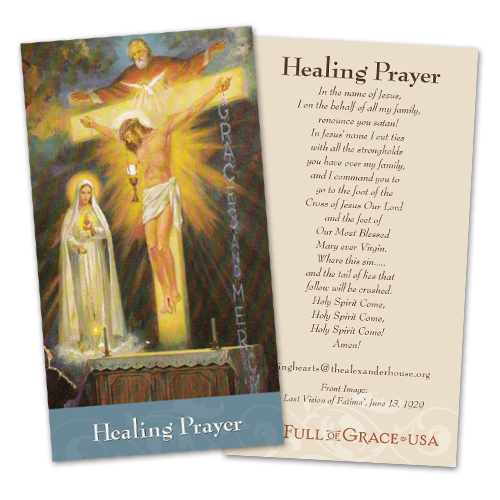 Healing Prayer Card
---
In stock, ready to ship

Inventory on the way
Healing Prayer Holy Card - Single Card. Size:  2.5" X 4.5".  A Full of Grace USA Original Product
Back of card: HEALING PRAYER
In the name of Jeus, I on the behalf of my family, renounce you satan!  In Jesus' name I cut ties with all the strongholds you have over my family, and I command you to go to the foot of the Cross of Jesus Our Lord and the feet of Our Most Blessed Mary ever Virgin, Where this sin.......and the tail of lies that follow will be crushed.  Holy Spirit Come, Holy Spirit Come, Holy Spirit Come!  Amen!
Front image:  "The Last Vision of Fatima", June 13, 1929
*Motherboard logo and all artwork contained herein © 2022, Motherboards, LLC.