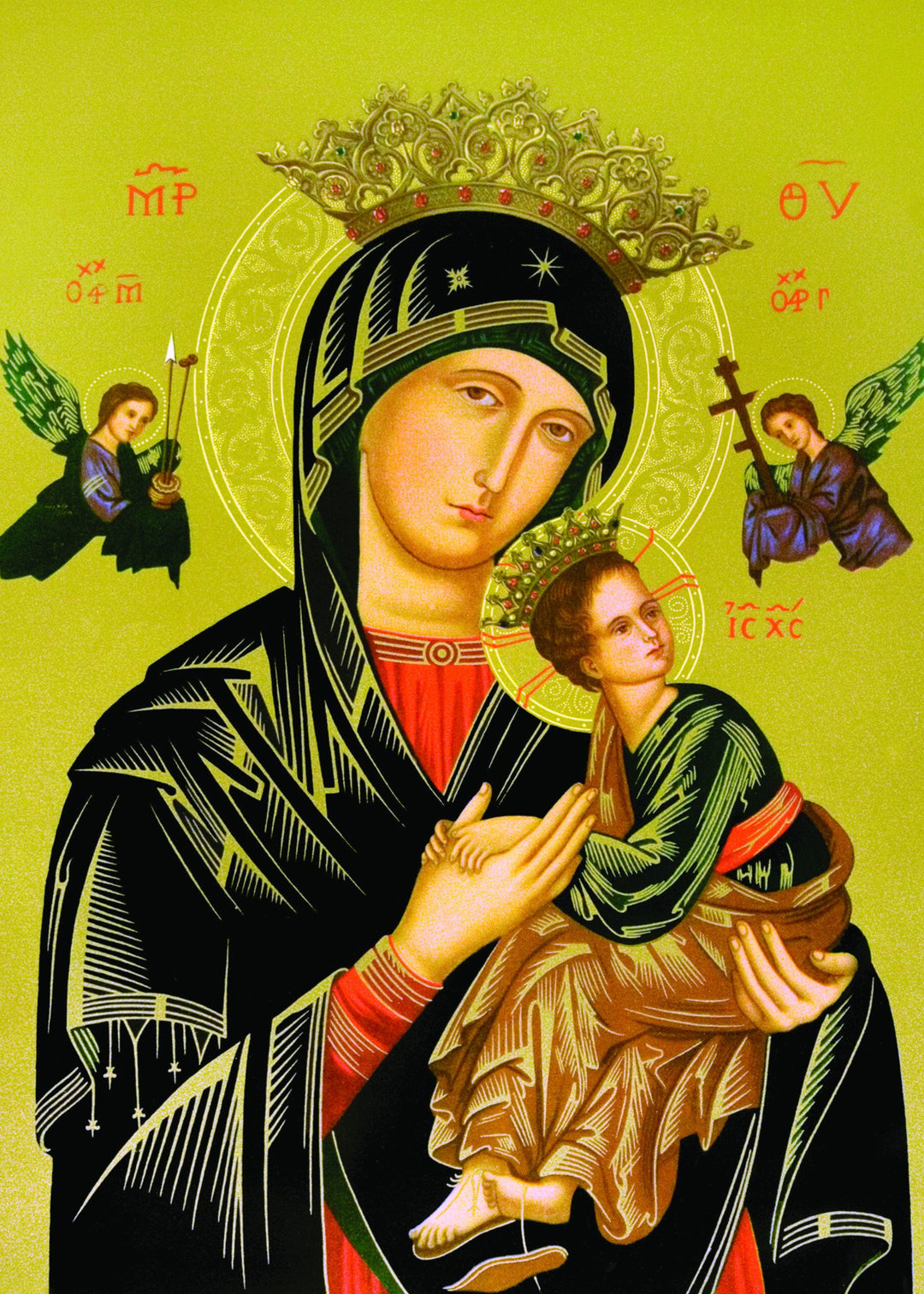 Our Lady of Perpetual Help Print 5X7
Regular price
$19.95
Sale price
$13.95
/
---
In stock, ready to ship

Inventory on the way
Glossy full-color print of the Our Lady of Perpetual Help Icon image suitable for framing. 
A Full of Grace USA Original Product.
Printed on Sterling Premium photo paper (made in U.S. paper mills in Kentucky, Maine, Maryland, Michigan, Minnesota & Wisconsin) and displayed in a white 8X10 beveled matte.
St. John Paul II prayed regularly before the image of Our Lady of Perpetual Help at his parish church in Wadowice after his own mother died when he was 9 years old.
Meaning of the Our Lady of Perpetual Help Icon 
Mary's eyes, filled with compassion and love, are directed toward us.
Our Lady is clothed in the colors of virgins (red) and of mothers (blue). These are also royal colors.
Jesus, depicted as a young boy, wears the colors of a king.
The star on Mary's veil reminds us that she is the dawn announcing the coming of Christ.
Our Lady's hands hold her Son securely, and her right hand directs our gaze to Him.
The Christ Child grasps his mother's hand as though he is frightened by what he sees.
In His hurry to reach his mother, Jesus has almost lost one of his sandals. He became human, like us, in all things but sin.
On Our Lady's left and right we see the reasons for the child's fear. On the right is the Archangel Gabriel, holding a cross and four nails. On the left is the Archangel Michael, holding a lance, a pole with a sponge, and a vessel of vinegar. This vision of the instruments of the crucifixion has driven the young Jesus to his mother's protective embrace.
Yet Our Lady's gaze is fixed on us, her children on earth. She is our source of constant comfort and hope.  (from:  redemptorists.net)