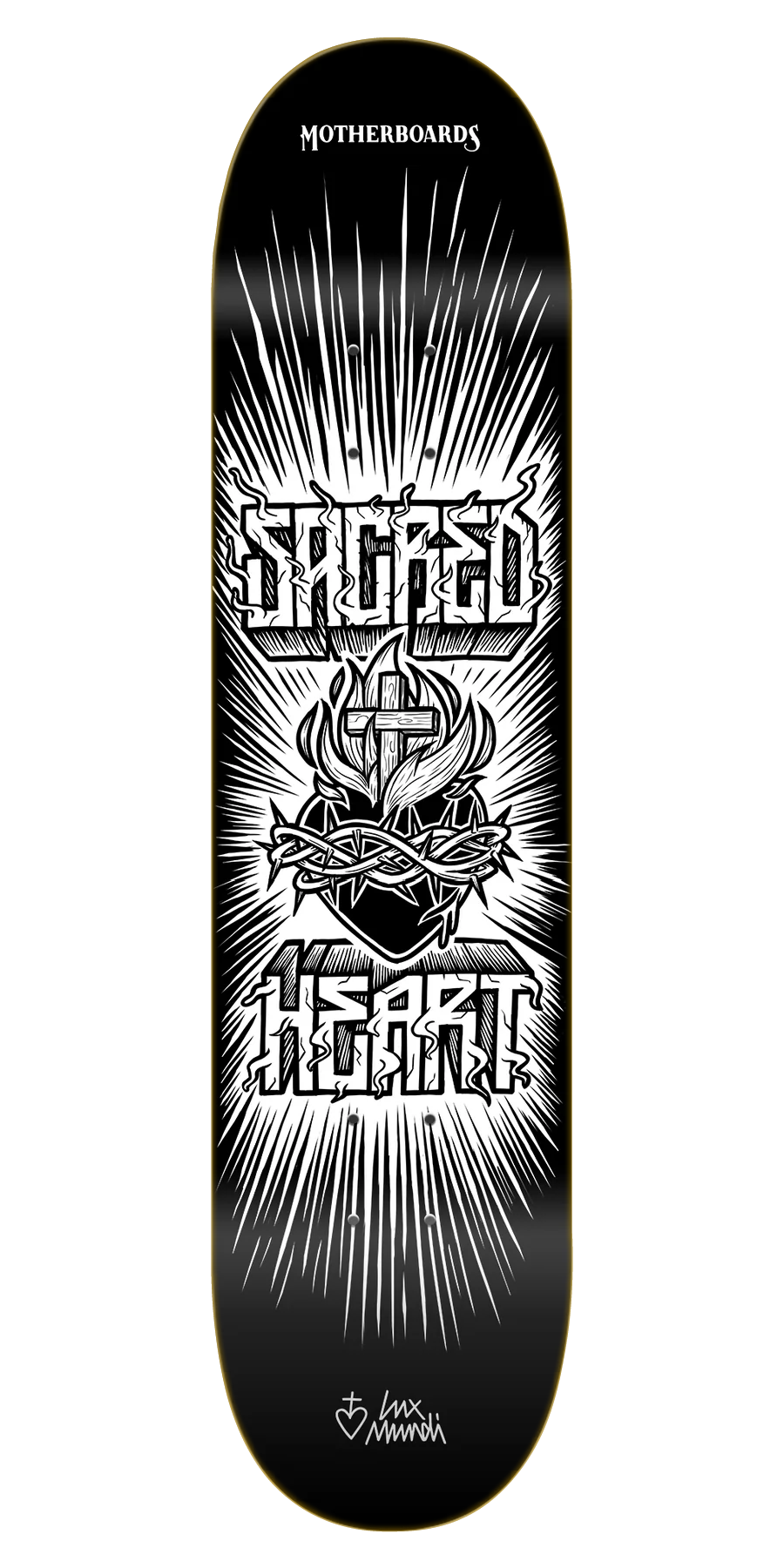 Vintage Skateboard Deck
---
Low stock - 8 items left

Inventory on the way
"Vintage" Sacred Heart of Jesus by Lux Mundi.  A NEW custom design created for Motherboards by Lux Mundi of France.  For more information on Lux Mundi or to shop any of their amazing artwork, click here:  https://lux-mundi.fr
DECK ART ICONOGRAPHY - SACRED HEART
For those troubled by the afflictions of modern life, the Sacred Heart of Jesus is the greatest source of spiritual and temporal help, graces and blessings. His physical Sacred Heart, pierced by our sins and for our salvation, surmounted by a cross and encircled with thorns IS the representation of his divine and self-sacrificing LOVE for humanity. His Divine Heart is a furnace whose burning rays of love reanimate faith and rekindle love in hearts that have grown cold and ungrateful. 
For more information read the Devotion to the Sacred Heart of Jesus on the Sisters of Carmel website.

MOTHERBOARDS DECKS:
7-PLY MAPLE DECKS:
All Motherboard skateboards are made from 100% American/Canadian Maple (wood species—Acer Saccharum) and are cold-pressed to ensure the wood is not subjected to high temperatures that can degrade wood fibers. The uncut decks are then allowed to cure for seven days before finishing. Each deck is made with skateboard specific glue made by Franklin. Our standard deck size is a steep 8.25,  31.5" in length.
ARTWORK:
The artwork on the board undersides are custom illustrations made exclusively for Motherboards. They are designed specifically for imprinting on our board products. You will not find these illustrations anywhere else, they are truly unique copyrighted designs.*  
DIGITAL PRINTED TRANSFER:
The highest level of detail is achieved using the DPT process. Specialized coatings are used to bind the ink DIRECTLY to the skateboard deck.  Our deck designs are bright, vibrant and iconic.  It's a big uplift from most of the deck art out there.
Motherboards, LLC is placed under the protection of the Sacred Heart of Jesus and the Immaculate Heart of Mary.
*Motherboard logo and all artwork contained herein © 2022, Motherboards, LLC. & Lux Mundi