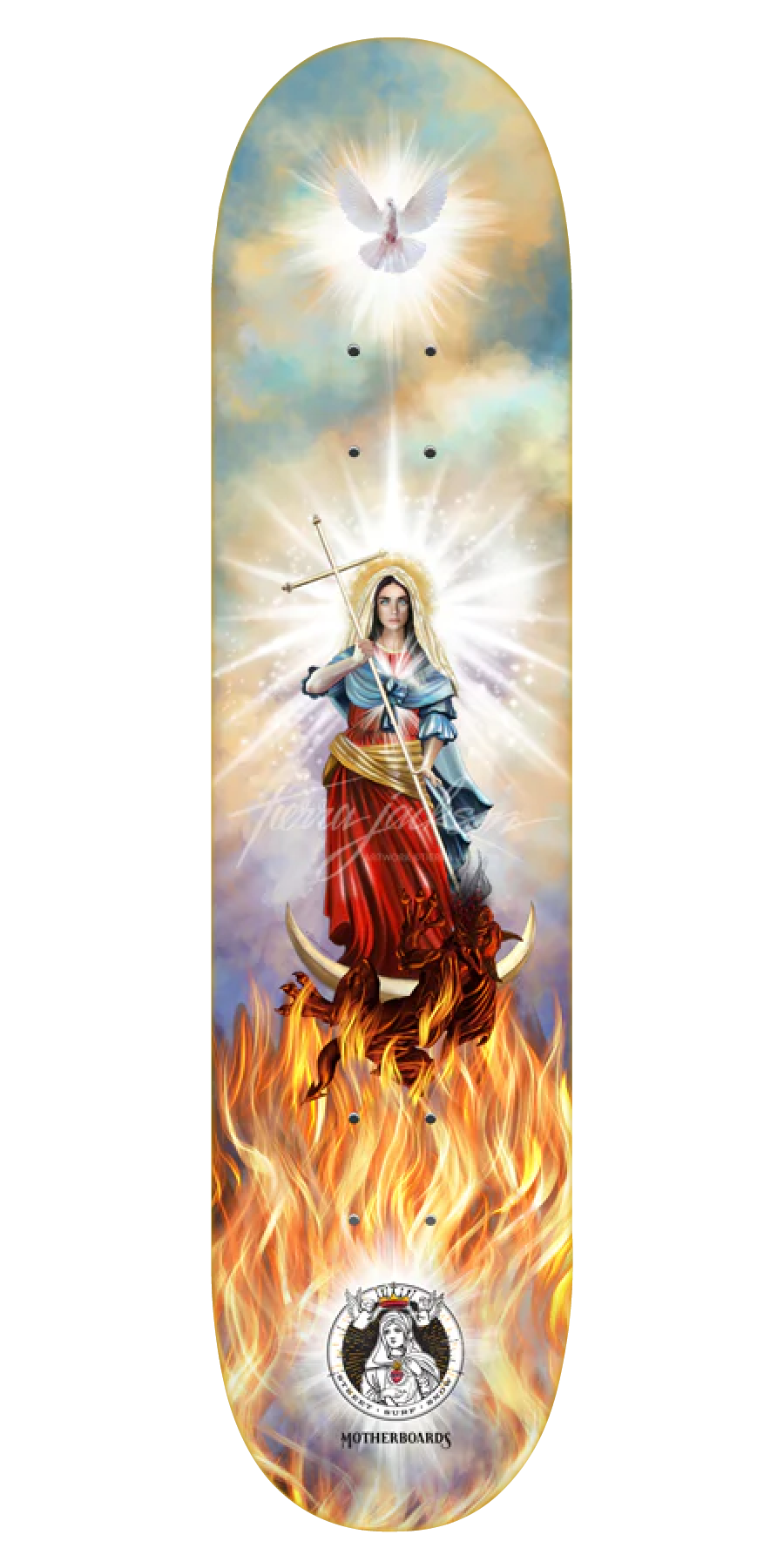 Virgo Potens/Virgin Most Powerful Skateboard Deck
---
Low stock - 6 items left

Inventory on the way
DECK ART ICONOGRAPHY - VIRGO POTENS
Virgin Most Powerful is the 19th invocation of the 52 title Litany of the Blessed Virgin Mary or Litany of Loreto. This title invokes Mary's intersession as the most powerful and most influential saint one could possibly call upon.
Unlike Eve who yielded to the demonic suggestion that was put to her by a fallen angel (Satan) and thus plunged our race into spiritual, physical and moral chaos, Mary, on the other hand, verified the statements of an unfallen angel (the Archangel Gabriel) and thus emerged as the breathtakingly beautiful and victorious Woman spoken of in the books of Genesis and the Apocalypse.
It is her physical, moral and spiritual beauty which has served and now serves to reverse the ancient curse by her assistance to her Savior, our Savior and the One Savior of All - Jesus the Christ.
Virgin Most Powerful - Pray for us
"A great sign appeared in heaven: a woman clothed with the sun, with the moon under her feet and a crown of twelve stars on her head" (Revelation 12:1).
A custom masterpiece created by Catholic artist Tierra Jackson,© 2021. 
For more information on why Satan hates the Virgin Mary read this on the Aletia website:  
To find out why Satan admits to exorcist Fr. Gabriel Amorth that he is afraid of the Madonna, read this on the Aletia website.
MOTHERBOARDS DECKS:
7-PLY MAPLE DECKS:
All Motherboard skateboards are made from 100% American/Canadian Maple (wood species—Acer Saccharum) and are cold-pressed to ensure the wood is not subjected to high temperatures that can degrade wood fibers. The uncut decks are then allowed to cure for seven days before finishing. Each deck is made with skateboard specific glue made by Franklin. Our standard deck size is an 8.0 steep, 8.25 steep or 8.50 steep 31.5" in length.
ARTWORK:
The artwork on the board undersides are custom illustrations made exclusively for Motherboards. They are designed specifically for imprinting on our board products. You will not find these illustrations anywhere else, they are truly unique copyrighted designs.
DIGITAL PRINTED TRANSFER:
The highest level of detail is achieved using the DPT process. Specialized coatings are used to bind the ink DIRECTLY to the skateboard deck.  Our deck designs are bright, vibrant and iconic.  It's a big uplift from most of the deck art out there.
Special thanks to Br. Gabriel M. Cortés of the Franciscan Friars of the Immaculate (aka "The Skating Friar"), whose advice and recommendations resulted in the build-out of our Motherboard's premium completes.
Motherboards, LLC is placed under the protection of the Sacred Heart of Jesus and the Immaculate Heart of Mary.
*Motherboard logo and all artwork contained herein © 2019, Motherboards, LLC.